I am so thrilled to be part of the sexy coalition of Liquid Silver Books authors that comprises the new blog group Love, Lust and Laptops!
http://lovelustandlaptops.wordpress.com/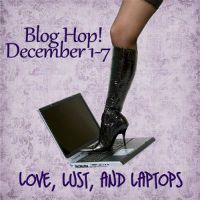 Together with Lillian Grant, Emilia Mancini, Parker Kincade, Lynn Lorenz, Robin Danner, Becca Jameson, Vanessa North, Cherie Nicholls and Monette Michaels, I will be blogging regularly on the Love, Lust and Laptops site. Join us as we talk romance, erotica, men, publishing and everything in between. We'll have guest bloggers from the romance world, and lots of fun surprises along the way!
Dec. 1 is our launch date, and we're doing a huge giveaway of prizes, including many of our books. So make sure you visit Love, Lust and Laptops and each of our blogs. Leave a comment for us. You could be a winner!
To celebrate our launch we are doing a blog hop giveaway. Every comment you leave between the 1st and the 7th of December enters you in the draw. You can increase your chances of winning by visiting each author's blogs and leaving a post. Each author may also be running their own giveaway. All in all you could score some serious swag.
So what can you win?
First prize is a $75 Amazon Gift Voucher
Two lucky second prize winners will receive $25 Amazon Gift Vouchers
Third Prize is a gift pack of the following E-books
Amazon by Vanessa North
One Night Stand by Parker Kincade
Male Order by Lillian Grant
For The Love of A God by Rosanna Leo
and any book from Lynn Lorenz's backlist
Fourth Prize is a gift pack of the following ebooks
The Princes Bound by Robin Danner
Leashed by a Wolf by Cherie Nicholls
and any book from Monette Michaels' backlist, excluding her Terran Realm anthology
Fifth Prize is a gift pack of the following ebooks
Lindsey's Wolf by Becca Jameson
and The Rebound by Emilia Mancini
Be sure to come back on 7 December to see if you are a winner.
For more chances to win prizes be sure to visit:
Becca Jameson
Cherie Nicholls
Lillian Grant
Lynn Lorenz
Monette Michaels
Parker Kincade
Robin Danner
Vanessa North
Emilia Mancini
To celebrate, I'm also giving away one of my backlist here on my blog, so leave me a comment, tell me which of my books interests you and why, and you might win it!
While you're here, check out the hot trailer designed by our own Emilia Mancini!
http://youtu.be/pVTXQA1_Plw
The Ladies of Love, Lust & Laptops
Vanessa North
Website:
http://www.vanessanorth.com
Blog:
http://vanessanorthwrites.wordpress.com
Facebook:
http://facebook.com/authorvanessanorth
Twitter:
https://twitter.com/VanessaNWrites
Goodreads:
http://www.goodreads.com/author/show/6436063.Vanessa_North
Lillian Grant
Parker Kincade
Website:
http://www.parkerkincade.com
Blog:
http://www.parkerkincade.blogspot.com
Facebook:
http://www.facebook.com/parkerkincade
Twitter:
http://www.twitter.com/parkerkincade
Goodreads:
http://www.goodreads.com/author/show/6475101.Parker_Kincade
Becca Jameson
Website/Blog:
http://www.beccajameson.com
Email:
beccajameson4@aol.com
Facebook:
http://www.facebook.com/beccajameson
Twitter:
http://www.twitter.com/beccajameson
Goodreads:
http://www.goodreads.com/author/show/4995901.Becca_Jameson
Lynn Lorenz
Website:
http://www.lynnlorenz.com
Email:
LynnLorenz@live.com
Facebook:
https://www.facebook.com/lynn.lorenz.58
Twitter:
http://www.twitter.com/LynnLorenz
Goodreads:
http://www.goodreads.com/author/show/1496392.Lynn_Lorenz
Monette Michaels
Website:
http://www.monettemichaels.com
Blog:
http://romanticimperative.wordpress.com/
E-mail:
monettemichaels@gmail.com
Facebook:
http://www.facebook.com/monette.draper
Twitter:
https://twitter.com/raemorgan
Goodreads:
http://www.goodreads.com/author/show/316262.Monette_Michaels
Cherie Nicholls
Website:
http://www.cherienicholls.co.uk/
Blog:
http://cherie-ramblingsoapbox.blogspot.co.uk/
Facebook:
http://www.facebook.com/pages/Cherie-Nicholls-Author/191441327590566
Twitter:
http://www.twitter.com/cherienicholls
Goodreads:
http://www.goodreads.com/author/show/5767237.Cherie_Nicholls
Pinterest:
http://pinterest.com/cherie7478/
Emilia Mancini
Website:
http://www.emiliamancini.com
Facebook:
http://www.facebook.com/authoremiliamancini
Twitter:
http://www.twitter.com/Emilia_Mancini
Goodreads:
http://www.goodreads.com/author/show/5828061.Emilia_Mancini
Robin Danner
Website:
http://robindanner.webs.com
Facebook:
http://www.facebook.com/robindannerauthor
Twitter:
http://www.twitter.com/robindanner
Goodreads:
http://www.goodreads.com/robindanner